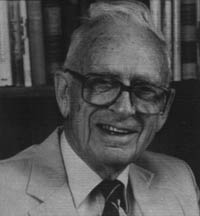 A Call for Ethics
GEORGE C.S. BENSON P'61
TUESDAY, FEBRUARY 23, 1993 12:15 p.m.
Dr. George C.S. Benson, CMC's founding president, believes that in today's world we forget some of life's most important aspects. For him, it is important to cultivate a habit of ethical consideration for other human beings.

Dr. Benson expresses dismay with educational institutions, particularly liberal arts colleges like CMC, that do not make a concerted effort to teach practical ethics. He assumes that a strong correlation exists between the violence in our society and the lack of ethical and moral training found in America's schools.

Dr. Benson earned his bachelor's degree from Pomona College, his master's from the University of Illinois, and a Ph.D. in government from Harvard University. He taught at Harvard, the University of Chicago, the University of Michigan, and Northwestern University. In 1940, he went to work for the Office of Price Administration and in 1941 he entered the army. In 1946, he founded Claremont Men's College, and in 1969, Dr. Benson resigned from the presidency at CMC to accept an appointment by President Richard Nixon to serve as deputy assistant secretary of defense. He returned to CMC in 1972 as director of the Henry Salvatori Center for the Study of Individual Freedom in the Modern World.

Lunch is served at 11:45 a.m. Dr. Benson speaks at 12:15.