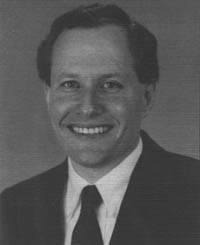 The '92 Election and Beyond
WILLIAM KRISTOL
TUESDAY, MARCH 9, 1993
Sign up for an evening with William Kristol, former chief of staff to Vice President Dan Quayle. Mr. Kristol is credited for positioning former Vice President Quayle as the leading spokesperson for the conservative branch of the Republican Party.
Before his promotion to chief of staff in June 1989, Mr. Kristol served as Quayle's assistant for domestic policy, starting in January 1989. From December 1985 to July 1988, he was chief of staff to education secretary William Bennet, leaving that position to run Alan Keyes' U.S. Senate campaign in Maryland. From 1983 to 1985, Mr. Kristol was assistant professor of public policy at the John F. Kennedy School of Government, Harvard University.
Prior to joining the Kennedy School, Mr. Kristol taught in the political science department of the University of Pennsylvania. He received his A.B. and Ph.D. degrees in government from Harvard.

The Salvatori Center is sponsoring Mr. Kristol's visit as part of its series, "Social Science and Public Policy."