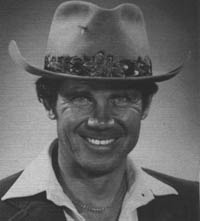 The American Wilderness: Past, Present and Future
RODERICK NASH
WEDNESDAY, MARCH 10, 1993
What is the state of America's wilderness? For an answer to this question and many others, please join us for what will prove to be a very informative speech on America's wilderness.

Dr. Roderick Nash completed his B.A. at Harvard University in history and literature and his M.A. and Ph.D. at the University of Wisconsin in 1964, specializing in American intellectual history. He taught briefly at Dartmouth College before coming to the University of California, Santa Barbara. Among his ten books, Professor Nash is best known for Wilderness and the American Mind, first published in 1967 and now in its third edition. His most recent monograph is The Rights of Nature: A History of Environmental Ethics (1989), Dr. Nash founded the multidisciplinary major in environmental studies at UCSB. Through his career Dr. Nash has received many awards; he was named a Lindbergh Fellow, delivered the keynote address at the fourth World Wilderness Conference, and was voted UCSB's professor of the year in 1990.

We hope you will join us for Professor Nash's important address.