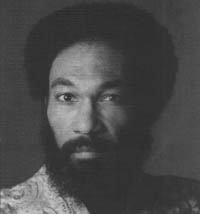 Malcolm X Speaks
CHARLES PACE
TUESDAY, FEBRUARY 23, 1993
With the release of Spike Lee's movie, the interest in Malcolm X continues to increase. Tonight's speaker, Charles Pace, will provide us with an entertaining and educational look into the life of Malcolm X.
Charles Pace's "Malcolm X Speaks" covers the three major phases in the historical and psychological evolution of Malcolm X: the apolitical Malcolm Little; Malcolm X, the national minister of the Nation of Islam; and El-Hajj Malik EI-Shabazz. Pace has toured Africa with this presentation twice. The tours were sponsored by the United States Information Agency and the State Department as part of a cultural exchange program with Africa. Pace presents Malcolm's views on African-American history and culture, the role of Africa and slavery in the African psychosocial consciousness, and his vision for the future of Africans in American society. After the performance, questions may be asked of the character. Next, Pace will answer questions as himself.

Charles Pace received his B.A. in biology from the University of Texas at Austin and an M.A. in American studies and history from Purdue, where he is working on his Ph.D. in American studies and anthropology.