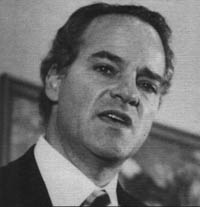 The Meaning of the Turnover from Republicans to Democrats
SEYMOUR MARTIN LIPSET
MONDAY, MARCH 1, 1993
What is the heuristic value of the 1992 election? Find out in an evening spent with a distinguished political scientist, Seymour Martin Lipset.

Dr. Lipset is the Hazel Professor of Public Policy at the Public Policy Institute at George Mason University and is also senior fellow at the Hoover Institution at Stanford University. He has authored or co-authored twenty-one books or monographs and is said to be the most cited living political scientist. Most recently, Dr. Upset wrote the introduction for the Progressive Policy Institute's Mandate for Change (1992), the book now deemed as the blueprint for the Clinton administration.

His work centers around the fields of political sociology, social stratification, public opinion, and the sociology of intellectual life. He has also written extensively about the conditions for democracy, North American societies, and the Jewish community. His recent work includes "hot" topics such as affirmative action and political correctness.

Currently, Dr. Lipset is president of the American Sociological Association. In the past, he served as president of the American Political Science Association.

Professor Lipset holds degrees from City College of New York and Columbia University. His visit to the Athenaeum is sponsored by the Salvatori Center.