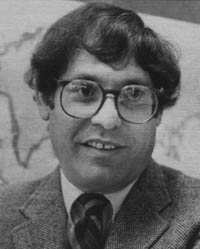 Splendid Misery: Lyndon Johnson and Vietnam
ROBERT DALLEK
MONDAY, MARCH 8, 1993
Lyndon Baines Johnson, a complex and elusive figure to historians, played a colossal role during the period surrounding the Vietnam War. He is often characterized as a figure in folklore. Robert Dallek's book, Lone Star Rising: Lyndon Johnson and His Times, 1908-1960 (1991) is the first book to get to the heart of the man.

Dr. Dallek, a professor at UCLA, specializes in 20th century American history, the American presidency, and American foreign policy. His book on Johnson is the first of a two-volume biography based on seven years of research. Dr. Dallek has also written books on Franklin D. Roosevelt and Ronald Reagan, as well as the cultural politics of foreign affairs.

Dr. Dallek has received numerous international awards and honors for his research, including the presentation of University College London's Commonwealth Fund Lecture in American History. He has been appointed the visiting Harmsworth Professor of American History at Oxford for 1994-95. Join us for a peek behind the elusive facade of Lyndon Johnson in this second lecture of the series on the Vietnam War.