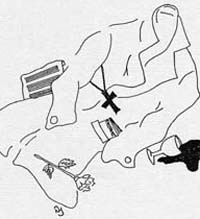 Dinner Theater
The Mystery of Sir Edwin Drood by Charles Dickens
THURSDAY, MARCH 31- SATURDAY, APRIL 2, 1993
Based on
The Mystery of Sir Edwin Drood
(1870), a novel Charles
Dickens left unfinished at the time of his death,
Drood
is a
murder mystery with a comic flair and more than forty possible
endings. The plot introduces a number of interesting suspects
before leaving off rather abruptly. Whodunit? The unpredictable
opium queen, Princess Puffer? The pious Reverend Crisparkle?
One of the foreign Landless twins? The drunken graveyard
Durdles? The desperate author, Bazzard? The beautiful fiancee,
Rosa Bud? Or the unquestionably evil John Jasper? The Under
the Lights cast won't know until the audience at the Marian
Miner Cook Athenaeum votes upon this and other questions
during the performance. Join us for an evening of murder,
mayhem, and McKenna comedy at its finest."
Dinner is served at 6:00; the play begins at 6:45.