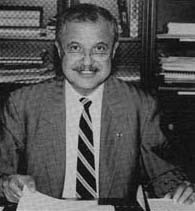 The Challenges Facing Accounting Education
TALAL ABU-GHAZALEH P'87, P'87, P'92
MONDAY, MARCH 22, 1993
The Marian Miner Cook Athenaeum is pleased to welcome Talal Abu-Ghazaleh back to campus. In his Monday night address, he will speak on the challenges facing accounting education.

Mr. Abu-Ghazaleh is the founder and the present chairman of the board of directors of Talal Abu-Ghazaleh International (TAGI), U.K., the largest holding company for professional firms in the Arab world, operating in 30 offices throughout the Middle East. Additionally, he is the recipient of numerous awards, including an honorary degree, Doctor of Humane Letters, from Canisius College in New York, decoration from the Republic of Tunisia, and knighthood from the French Legion of Honor.

He received his BBA from the American University of Beirut and has gone on to become an international leader in the accounting and consulting professions. Mr. Abu-Ghazaleh is the father of Luay '87, Qusay '87, and Jumana '92 Abu-Ghazaleh.