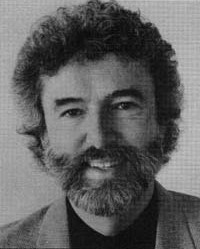 Animated Mythology
GERALD McDERMOTT
TUESDAY, MARCH 30, 1993
Gerald McDermott
is a Caldecott Medalist whose
illustrated books and animated films have brought him
international recognition. He is highly regarded for his
culturally diverse works inspired by traditional African and
Japanese folktales, hero tales of the Pueblos, and the archetypal
mythology of Egypt, Greece, and Rome.
In his presentation on Tuesday evening, he will show the film
Arrow to the Sun (1973) and discuss the incorporation of myth in his art.
Mr. McDermott was born in Detroit, Michigan, and says his
career began when his parents enrolled him in art school at the
age of four. He has produced and directed a series of animated
films on mythology in consultation with renowned mythologist
Joseph Campbell. These films became the basis for McDermott's
first picture books. Mr. McDermott has recently been appointed
primary education program director with the Joseph Campbell
Foundation. Presently, he lives in Los Angeles and is at work on
a new series of books and films based on mythology and folklore.