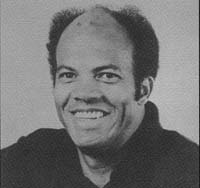 Readings from Work in Progress
JOHN EDGAR WIDEMAN
MONDAY, APRIL 5, 1993
John Wideman's fiction gives one of the most trenchant portraits of the pain of the urban African-American experience and expresses the need and desire to find some order in that experience. His fiction is known for its dazzling energy and narrative experimentation.

The Stories of John Edgar Wideman was published in 1992. Wideman's most recent novel and his tenth book, Philadelphia Fire, published in 1990, was awarded the 1991 PEN/Faulkner Prize for Fiction. This was Wideman's second PEN award. Sent for You Yesterday received the PEN/Faulkner Prize for Fiction in 1984 and was listed as one of the 15 best books of 1983 by the New York Times Book Review. Brothers and Keepers, published in 1984, received the DuSable Museum prize for non-fiction.

Wideman graduated from the University of Pennsylvania with a B.A. in English in 1963. As a Rhodes scholar, Wideman spent three years in England, receiving a B.Phil. degree from Oxford in 1966. He subsequently spent a year at the University of Iowa Writers Workshop. Since 1974 Wideman had been a professor of English at the University of Wyoming, Laramie, and in 1986 he joined the faculty of the University of Massachusetts at Amherst as a full professor of English. Wideman teaches courses in creative writing and African-American literature.