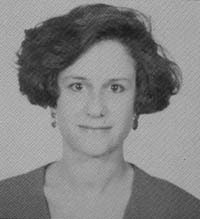 The Implications of NAFTA in Mexico
DENISE DRESSER
THURSDAY, APRIL 8, 1993
The Keck Center for International and Strategic Studies is pleased to announce that Professor Denise Dresser will discuss "Upward Mobility or Downward Drift: The Implications ofNAFTA in Mexico" as part of its lecture series on "The Pacific Rim and the United States."

Professor Dresser teaches political science at Mexican Autonomous Technical Institute. She has served as a political analyst in the Mexican Ministry for Foreign Affairs and has held several research positions, including the visiting research fellowship at the Center for U.S.-Mexican Studies at the University of California, San Diego. She has received a number of other fellowships and scholarships, including a Fulbright Scholarship.

Professor Dresser graduated from El Colegio de Mexico in 1983 and received an M.A. degree from Princeton University in 1987. She is completing her doctoral dissertation at Princeton.