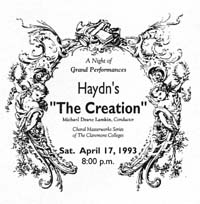 Concert Preview: Haydn's The Creation
MICHAEL DEANE LAMKIN
TUESDAY, APRIL 13, 1993
On Saturday, April 17, the Claremont Chamber Orchestra, the Claremont Colleges Concert Choir, the Pomona College Choir, and community choirs will perform Haydn's The Creation at Bridges Auditorium.

As a concert preview to this event, the Marian Miner Cook Athenaeum is pleased to present Michael Deane Lamkin, the conductor of this work, who will discuss the piece on Tuesday, April 13. Mr. Lamkin will discuss The Creation (1798) in terms of the music and its place in social history. He will illustrate his talk with musical examples and slides of Vienna.

Mr. Lamkin, who is professor of music holding a joint appointment with Claremont McKenna, Harvey Mudd, Pitzer, and Scripps colleges, specializes in music of the 18th and 19th centuries with particular emphasis on Haydn and the master classicists. His work as a conductor has taken him to such foreign places as Munich, Vienna, and Iowa City. With a background in both instrumental and vocal music, Mr. Lamkin is the conductor and music director of the Claremont Chamber Orchestra and the Claremont Colleges Concert Choir.