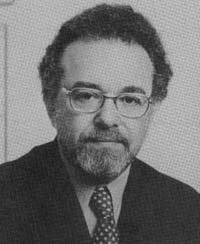 Visions of the City in American Photography
ALAN TRACHTENBERG
WEDNESDAY, APRIL 14, 1993
Dr. Alan Trachtenberg is the Neil Gray, Jr. Professor of English and American Studies at Yale University. His Reading American Photographs: Images as History, Mathew Brady to Walker Evans (1990) was awarded the Charles C. Eldredge Prize for outstanding scholarship in American art by the National Museum of American Art. His other books include Brooklyn Bridge: Fact and Symbol (1965) and The Incorporation of America: Culture and Society in the Gilded Age (1982). He has published numerous essays on American cultural history, specifically literary topics, technology and urbanism, and photography.

He has held several visiting positions, including Fulbright professorships at Leningrad State University and at the Kyoto American Studies Seminar and visiting professor in the Science, Technology, and Pronian Institution at MIT.

Professor Trachtenberg received his A.B. at Temple University, an M.A. at the University of Connecticut, and a Ph.D. from the University of Minnesota. He is the Phi Beta Kappa visiting scholar for 1992-93.