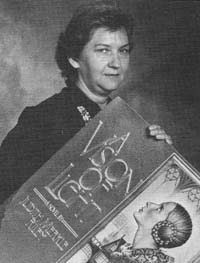 Women's Roles in Medieval Times
JUDITH MERKLE
TUESDAY, APRIL 20, 1993 12:15 p.m.
Novelist and professor of government at CMC, Judith Merkle has been fascinated by the medieval era since her adolescence. Although her professional career has taken her into other byways, it has never lessened her long and intense interest in the fourteenth century.

Professor Merkle's first novel, A Vision of Light, published in 1989, challenges all of our notions about women's roles in the medieval era. Her subsequent novels, In Pursuit of the Green Lion (1990) and upcoming The Oracle Glass, have also received great critical acclaim.

Ms. Merkle earned both her B.A. and Ph.D. from University of California, Berkeley, taking time out for the AM at Harvard University.

This is a wonderful opportunity for lunchtime conversation with CMC's own popular professor/novelist.

Lunch is served at 11:45 a.m. Professor Merkle speaks at 12:15 p.m.