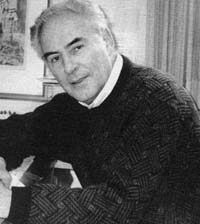 Holocaust Commemoration
LAWRENCE LANGER
WEDNESDAY APRIL 21, 1993
As part of its Holocaust commemoration, the Athenaeum presents Dr. Lawrence L. Langer. Dr. Langer will provide us with a videotape presentation of survivor testimony, along with his own commentary.

Dr. Langer is a professor of English and holds the Alumnae Endowed Chair at Simmons College. He also has lectured or been a fellow at Yale University, the University of Connecticut, and Harvard University. Some of his books include Holocaust Testimonies: The Ruins of Memory (1991), Visions of Survival: The Holocaust and the Human Spirit (1982), and The Age of Atrocity: Death in Modern Literature (1978). In addition to books. Dr. Langer has written many chapters and articles on a variety of subjects.

Please join us for what will prove to be a very moving presentation.