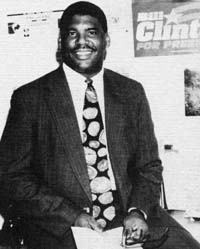 From Inside the Clinton Campaign
TIMOTHY WRIGHT III '77
TUESDAY, APRIL 27, 1993
What was it like to work on Bill Clinton's presidential
campaign? Find out from CMC alumnus
Tim Wright
,
who served as domestic policy director to the campaign.
After the election, Mr. Wright served on the Clinton
transition team as chief policy specialist for the Health and
Human Services Cluster, which included the Department of
Health and Human Services, the Department of Housing and
Urban Development, and the Department of Veterans' Affairs.
Additionally, he led the confirmation team for Henry Cisneros as
secretary of Housing and Urban Development.
Mr. Wright is an expert in urban economic development. In
Chicago, he has served as Commissioner of Economic
Development, where he was responsible for the formulation of
economic development policy, programming project
development and implementation. He also pioneered Chicago's
Minority Leveraged Buyout Program, a program supporting the
acquisition of industrial companies by qualified minority
entrepreneurs. Currently, Mr. Wright is Of Counsel to the
Chicago-based law firm of Sachnoff & Weaver, Ltd.
Mr. Wright graduated from CMC in 1977 with dual degrees
in economics and political science. He also holds a JD from
UCLA Law School