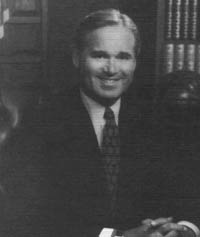 The Crisis in the Criminal Justice System
ROBERT TANENBAUM
WEDNESDAY, SEPTEMBER 29, 1993
He is an attorney, author, former mayor, and is currently a councilman of Beverly Hills-Robert K. Tanenbaum does it all! From prosecuting Mafia members in New York to running for Los Angeles County District Attorney, Councilman Tanenbaum knows the justice system. In fact, he knows it so well that he has written about it in eight fictional novels on the legal world.

Born in Brooklyn, Mr. Tanenbaum attended UC Berkeley. Following graduation he continued his education at Boalt Hall School of law at UC Berkeley, where he earned his law degree. Councilman Tanenbaum is a member of the State Bar of California, New York, and Pennsylvania. In New York he served as Deputy Chief of Homicide Bureau, Chief of Felony Trial Bureau, and Chief of the Criminal Courts Bureau. Currently he has a private legal practice in Beverly Hills.

His novels have been critically acclaimed by the Los Angeles Times, Larry King, and Publishers Weekly. His latest books are Reversible Error (1992) and Immoral Certainty (1991).

If this author/attorney/politician can find the time to visit CMC, then there is no excuse for missing what is sure to be a fascinating lecture.