Athenaeum Location
Print Newsletter
October 4, 1993
Vol. 09, No. 02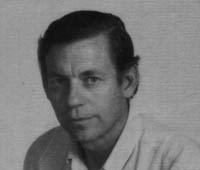 Health Care Reform: The Politics and Policies of Family Planning
ROBERT GILLESPIE
MONDAY, OCTOBER 4, 1993
According to the Population Education Committee, a new baby is born every three seconds, or 10,845 per hour. This is equivalent to adding on to earth a country the size of Mexico every year, or one the size of the United States every three years. Overpopulation is indeed a pressing issue that will have to be addressed.

One way to tackle the frightening population trends, according to Robert W. Gillespie, is through health care reform. From July 1976 to August 1978 Mr. Gillespie founded Population Communication. This organization was created to conduct innovative family planning projects and to communicate population messages to national leaders in developing countries. As the president of Population Communication, Robert Gillespie helped author the Statement on Population Stabilization which has been signed by 48 heads of government.

A graduate from California Polytechnic State University with a master of public health in population planning from the University of Michigan, Robert Gillespie has contributed to numerous books, articles, and films regarding population and family planning. This is a problem without an easy solution, but one that must not be ignored. Come prepared for a discussion that will remind you of the seriousness of this health care issue.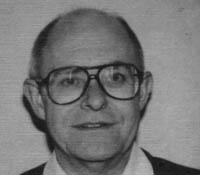 Poetry and Piety: Spanish Fascism and Catholic Culture
MARTIN BLINKHORN
TUESDAY, OCTOBER 5, 1993
How did the doctrine of hate and oppression that we call fascism manage to gain a foothold in so many of the countries and among so many of the peoples of Europe? To help explain this phenomenon and to provide insight into what modern governments and citizens can do to check the spread of fascism in our time, the Gould Center for Humanistic Studies has engaged Professor Martin Blinkhorn of Lancaster University (United Kingdom) to deliver the second in a series of lectures on the ideological roots and current manifestations of 20th century European Fascism.

Dr. Blinkhorn brings to his Athenaeum presentation an extraordinarily distinguished background in teaching, research, and writing on the comparative social and political history of southern European countries. A fellow of the Royal Historical Society, director of Lancaster University's Centre for Social History, and editor of European History Quarterly, he has authored or edited, among other books, Carlism and Crisis in Spain, 1931-1939 (1975); Spain in Conflict 1931-1939: Democracy and its Enemies (1987); and Fascists and Conservatives in Europe (1990).

All are invited to join in the continued exploration of the development, proliferation, and resurgence of fascism in our time.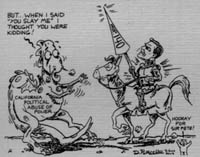 The Future of the Term Limits Movement
PETER SCHABARUM
WEDNESDAY, OCTOBER 6, 1993
Will term limits solve the problem of the political abuse of power? The answer is affirmative according to Pete Schabarum, the coauthor of Prop. 164, the Congressional Term Limits Initiative of 1992, and of Prop. 140, the Political Reform Act of 1990 (the state legislative term limits initiative).

Mr. Schabarum was elected to the State Assembly in 1966, 1968, and 1970. There, he authored the most progressive antipollution legislation in the United States and worked consistently for welfare reform. He was appointed to the Los Angeles County Board of Supervisors by then Governor Ronald Reagan in 1972 and was subsequently continued as Supervisor until his retirement in 1991. In his more than 18 years as Los Angeles County Supervisor, Mr. Schabarum became known for his tough stance against government taxation and the inefficient use of public revenues.

A native Californian, Pete Schabarum attended UC Berkeley where he was an All-Conference halfback, playing in three Rose Bowls for the Berkeley Golden Bears. Afterwards, he joined the San Francisco 49ers for the 1951-52 and 1953-54 seasons. Before returning to Los Angeles to build his own independent commercial development company, Pete Schabarum served in the U.S. Air Force during the Korean War. Now retired from office, Mr. Schabarum is working to promote term limits for elected officials at all levels of government.

The Rose Institute and the Athenaeum are pleased to provide you with the opportunity to learn about this important political issue and discuss its ramifications with an experienced and committed public servant.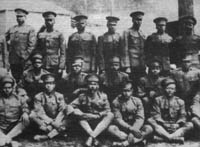 Dinner Theater
Camp Logan: Houston Mutiny and Court Martial of 1917 by Celeste Bedford Walker
THURSDAY, OCTOBER 7 1993
In late August 1917, 100 soldiers of the all-black 24th Infantry Regiment, Company I, stationed outside Houston, Texas, armed themselves and marched into the city, killing 20 whites and wounding 12 others. This incident serves as the basis for a fictionalized drama titled Camp Logan, created by Celeste Bedford-Walker, the daughter of a black soldier. This powerful drama is an account of events leading up to the largest mutiny in the history of the U.S. Armed Forces and the largest murder trial in U.S. history.

Camp Logan: Houston Mutiny and Court Martial of 1917 (1987) focuses mainly on the rising tensions within the 24th Infantry leading up to the riot. Six blacks had been lynched the year before in Houston and the Ku Klux Klan boasted almost five million members nationally. The 24th had a proud history, having recently returned from serving under Teddy Roosevelt and General John J. Pershing. Eager to be sent to France to fight in World War I, they were instead employed as day laborers, harassed and beaten by the Houston police, demeaned on street cars and at drinking-water barrels, forced to adhere to Jim Crow laws, and stripped of their military dignity and privilege in public.

Of the 118 soldiers of the 24th Infantry who were tried in this country's largest court-martial, 111 were convicted, 19 were hanged, 63 were sentenced to life in prison, and 29 received lesser hard-labor sentences.

With the aid of a grant from the National Endowment for the Arts, Camp Logan became a full scale production in 1989 and has since been touring the country-a tour which included a performance at the Kennedy Center in Washington, D.C.

The Office of Black Student Affairs, the Dean of Students at Claremont McKenna College, and the Athenaeum are pleased to offer you the opportunity to learn something about this little known chapter of American history. The performance will take place in McKenna Auditorium.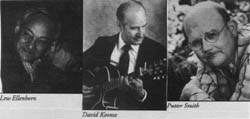 Jazz and the Art of Human Interaction
LEWIS ELLENHORN, clarinet
DAVID KOONSE, guitar
PUTTER SMITH, bass
MONDAY, OCTOBER 11, 1993
"Jazz is a genre of music which is created in the moment, requires some risk taking and intuitiveness and is highly influenced by the interactive dynamics of the group, as well as the group's relationship to the listeners."

-Lew Ellenhorn

Lew Ellenhorn has taken his musicianship beyond the scope of music into the realm of organizations and human relations. Currently involved in the development of methods for enhancing understanding and communication within organizations through the use of metaphors and art-based perspectives, Dr. Ellenhorn believes that most human interactions are musical events and can be described in structural terms and as musically relevant processes.

Using performance as a vehicle, this distinguished trio will provide the audience with a different perspective on human interaction. Lew Ellenhorn received his Ph.D. in social psychology from UCLA, where he also taught organizational/industrial psychology, group dynamics, and social psychology. An emeritus professor of psychology, Dr. Ellenhorn has a longstanding relationship with The Claremont Colleges, having taught at Pitzer College from 1966 to 1991.

Lew Ellenhorn has performed with the Chicago Symphony and the Los Angeles Philharmonic and has recorded with Harry Belafonte, Tony Martin, Sammy Davis Jr., Marilyn Monroe, and many others. His melodic clarinet can also be heard on the soundtracks of several motion pictures.

David Koonse, described by the noted jazz critic Leonard Feather as a "most elegant guitarist," was a featured soloist at the 1993 Los Angeles Classical Jazz Festival. Mr. Koonse has performed and recorded with George Shearing, Red Norvo, Chico Hamilton, Peggy Lee, Rod McKuen, and Benny Goodman. In the Los Angeles area David Koonse performs with Buddy Collette, Alan Broadbent, and Page Cavanagh and teaches jazz guitar at Pasadena City College.

A very active musician on the Los Angeles scene, Putter Smith has played with such artists as Thelonious Monk, Duke Ellington, Art Blakey, Johnny Mathis, Billy Eckstine, and Freddie Hubbard. Mr. Smith currently teaches at Musician's institute in Hollywood and Pasadena City College.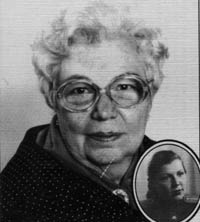 Reflections on Yalta: Effects on Contemporary Political Life in Russia
ZOYA ZARUBINA
TUESDAY, OCTOBER 12, 1993
Dr. Zoya Vasilyevna Zarubina thought she would want to kill the Nazi prisoners that were paraded through the streets of Moscow at the close of World War II. However, even though she had lost family members at the hands of the Nazis, instead of being hateful, Dr. Zarubina found herself pitying the prisoners. She remembers thinking, "We make enemies of people we don't know, and this is what happens. We were all victims. And I knew that I had to abolish the concept of the enemy."

Dr. Zarubina has devoted her life to promoting peace and understanding. As an interpreter of German, English, and French, Ms. Zarubina accompanied Stalin to the Yalta and Potsdam conferences. She also served as President Roosevelt's hostess at the Soviet Embassy in Tehran and Churchill's hostess in Yalta. As the head interpreter of all Communist Party Congresses and head interpreter of the Soviet delegation for ten years for the Conference on Security and Cooperation in Europe (CSCE), Dr. Zarubina was in Helsinki at the signing of the Helsinki Accords.

A woman of many talents, Dr. Zarubina participated in the Helsinki Olympics in 1952, has taught at numerous diplomatic and international institutions, and is a founder of the International Educators for Peace and Understanding Movement. Her reflections on Yalta are sure to be fascinating, so do not miss the opportunity to meet a woman whose goal is to spread goodwill and peace throughout the world.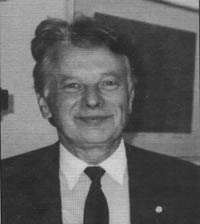 The Reemergence of the Baltic States After the Collapse of the Soviet Union
ILMARS LAZOVSKIS
WEDNESDAY, OCTOBER 13, 1993 12:15 p.m.
Professor Ilmars Lazovskis and his wife, Dr. Edith Lazovskia, currently on a lecture tour sponsored by the Latvian Medical Foundation, will be guests at luncheon in the Marian Miner Cook Athenaeum.

Nominated as a compromise presidential candidate in the June 1993 national election, Dr. Ilmars Lazovskis is in a unique position to provide an insider's perspective on the political situation in the Baltic region.

Chairman of the Internal Medicine Department at the Latvian Medical Academy, Dr. Lazovskis is a prominent figure in Latvian political and cultural life and is fluent in six languages.

A graduate of the Medical Institute of Riga, Dr. Lazovskis has published more than 130 articles for various medical journals and conferences throughout the world. His special interests are medical ethics, medicine and philosophy, phenomenology, and Latvian language and culture.

Dr. Edite Lazovska, a practicing gynecologist and also a professor at the Latvian Medical Academy, accompanies her husband on this tour as a lecturer on the medical education of midwives in Latvia.

Lunch is served at 11:45 and Dr. Lazovskis will speak at 12:15.

Panel Discussion on the Voucher Initiative
JOHN COONS
TERRY MOE
ALBERT SHANKER
WEDNESDAY, OCTOBER 13, 1993
"If you think education is expensive, try ignorance."

-Derek Bok

What is the voucher initiative? How will it affect public and private schools? What is the best way to implement a voucher system? These questions and many more will be addressed in our panel debate on the voucher initiative. The Athenaeum is indeed fortunate to have three distinguished speakers addressing different sides of the voucher issue. Terry Moe is a proponent of the voucher initiative. Albert Shanker is vehemently opposed to any kind of voucher plan. Contrary to both Shanker and Moe, John Coons is pro-voucher but does not like the current voucher initiative.

Mr. Terry M. Moe is currently a professor of political science at Stanford University. He has authored a book entitled Politics, Markets, and America's Schools (1990) that has received much national attention. Professor Moe has also, in connection with the Brookings Institution-where he served as a senior fellow-written a book entitled A Lesson in School Reform from Great Britain (1992). He will attempt to convince us that there is a need for the voucher initiative in the American school system.

An opponent to the voucher initiative, Albert Shanker has been the president of American Federation of Teachers since 1974. As the first teacher to become a member of the AFL-CIO Executive Council, Mr. Shanker now holds the position of senior vice-president of the AFL-CIO. He is also chairman of the General Board's Department for Professional Employees, the chair of the General Board's International Affairs Committee, and the founding president of Education International, a federation of teachers from democratic countries around the world. Mr. Shanker has earned a doctorate in philosophy from Columbia University. Furthermore, he has taught at New York City schools, as well as at Harvard University and Hunter College.

A professor of law at the University of California at Berkeley, Professor John E. Coons supports the idea of vouchers in education, but not the current voucher initiative. He has taught at numerous institutions all over the world including Northwestern University, University of Freiburg, University of Cologne, and the University of Tokyo. He was also a scholar in residence at the Rockefeller Center in Bellagio, Italy. Professor Coons has written many books, articles, and chapters on the issue of vouchers. His books include Family Choice in Education: A Model for State Voucher Systems (1971), Education by Choice: The Case for Family Control (1978), and Scholarships for Children (1992).

The debate will take place in McKenna Auditorium. Be prepared for a lively debate and a most exciting evening.
A NOTE FROM THE FELLOWS
CAROL BIEN-WILLNER '94
HENRY TAYLOR '94
Welcome to a new college year! The first couple of weeks back tend to be a little crazy, so Henry and I want to remind you to take time to enjoy the finer things in life, like the Ath. We feel that this year is going to be fantastic. Indeed, we think this year's wide range of speakers will provide a forum for intense debates and intellectual stimulation.

There are a number of things that will be different this year at the Athenaeum. We will be purchasing the books of all of our guest speakers. These books, and magazine articles on upcoming speakers, will be placed on a shelf in Parents Library. In the past we have found that speakers become more interesting if one is familiar with their work. So, with that in mind, we hope that everyone will take advantage of our new library collection.

Another change is that all head table arrangements will be made ahead of time. If you would like to sit with the speaker please drop Henry a note in the Fellows' Box in the Athenaeum office, or call Henry.

We would also like to remind you of our longstanding dress code for everyone attending dinner. What we ask is very simple. No jeans, T-shirts, or shorts will be allowed. However, dress is casual if you wish to just drop by at 6:45 p.m. for the program, attend lunch, or stop by for tea. Thank you for your cooperation in this.

We want to encourage as much student participation at Athenaeum events as possible. If you ever have any ideas or suggestions, please drop us a note or give us a call, even if it is just to ask what time tea starts. So, if there is a person you have always wanted to hear speak, or if your brother's best friend's sister is someone famous, let us know and we will try to help you bring that guest to the Ath!

Best of luck on the new school year.