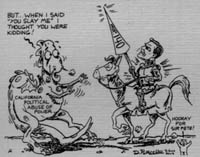 The Future of the Term Limits Movement
PETER SCHABARUM
WEDNESDAY, OCTOBER 6, 1993
Will term limits solve the problem of the political abuse of power? The answer is affirmative according to Pete Schabarum, the coauthor of Prop. 164, the Congressional Term Limits Initiative of 1992, and of Prop. 140, the Political Reform Act of 1990 (the state legislative term limits initiative).

Mr. Schabarum was elected to the State Assembly in 1966, 1968, and 1970. There, he authored the most progressive antipollution legislation in the United States and worked consistently for welfare reform. He was appointed to the Los Angeles County Board of Supervisors by then Governor Ronald Reagan in 1972 and was subsequently continued as Supervisor until his retirement in 1991. In his more than 18 years as Los Angeles County Supervisor, Mr. Schabarum became known for his tough stance against government taxation and the inefficient use of public revenues.

A native Californian, Pete Schabarum attended UC Berkeley where he was an All-Conference halfback, playing in three Rose Bowls for the Berkeley Golden Bears. Afterwards, he joined the San Francisco 49ers for the 1951-52 and 1953-54 seasons. Before returning to Los Angeles to build his own independent commercial development company, Pete Schabarum served in the U.S. Air Force during the Korean War. Now retired from office, Mr. Schabarum is working to promote term limits for elected officials at all levels of government.

The Rose Institute and the Athenaeum are pleased to provide you with the opportunity to learn about this important political issue and discuss its ramifications with an experienced and committed public servant.