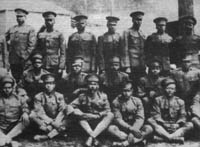 Dinner Theater
Camp Logan: Houston Mutiny and Court Martial of 1917 by Celeste Bedford Walker
THURSDAY, OCTOBER 7 1993
In late August 1917, 100 soldiers of the all-black 24th Infantry Regiment, Company I, stationed outside Houston, Texas, armed themselves and marched into the city, killing 20 whites and wounding 12 others. This incident serves as the basis for a fictionalized drama titled Camp Logan, created by Celeste Bedford-Walker, the daughter of a black soldier. This powerful drama is an account of events leading up to the largest mutiny in the history of the U.S. Armed Forces and the largest murder trial in U.S. history.

Camp Logan: Houston Mutiny and Court Martial of 1917 (1987) focuses mainly on the rising tensions within the 24th Infantry leading up to the riot. Six blacks had been lynched the year before in Houston and the Ku Klux Klan boasted almost five million members nationally. The 24th had a proud history, having recently returned from serving under Teddy Roosevelt and General John J. Pershing. Eager to be sent to France to fight in World War I, they were instead employed as day laborers, harassed and beaten by the Houston police, demeaned on street cars and at drinking-water barrels, forced to adhere to Jim Crow laws, and stripped of their military dignity and privilege in public.

Of the 118 soldiers of the 24th Infantry who were tried in this country's largest court-martial, 111 were convicted, 19 were hanged, 63 were sentenced to life in prison, and 29 received lesser hard-labor sentences.

With the aid of a grant from the National Endowment for the Arts, Camp Logan became a full scale production in 1989 and has since been touring the country-a tour which included a performance at the Kennedy Center in Washington, D.C.

The Office of Black Student Affairs, the Dean of Students at Claremont McKenna College, and the Athenaeum are pleased to offer you the opportunity to learn something about this little known chapter of American history. The performance will take place in McKenna Auditorium.