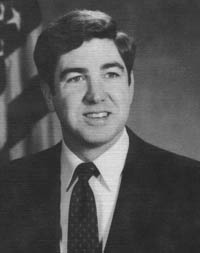 The Environmental Consequences of Arms Control and Disarmament
RONALD LEHMAN II '68
TUESDAY, OCTOBER 26, 1993
As someone deeply involved in negotiating agreements between countries on issues of national security, Ambassador Ronald Lehman is now faced with the task of assessing the consequences of these agreements which he helped forge. Mr.Lehman's current position as assistant to the Department of Energy's Lawrence Livermore National Laboratory again places him in the forefront, dealing with issues of national and international scope.

A native Californian, Mr. Lehman graduated from CMC in 1968 and received his Ph.D. from The Claremont Graduate School in 1975. A highly decorated Vietnam War veteran, he has held a number of important positions in the U.S. Government-in the Defense Department as Assistant Secretary, in the State Department as U.S. Chief Negotiator on Strategic Offensive Arms (START), and in the White House as Deputy Assistant to the President.

From 1989 to 1993 he served as Director of the U.S. Arms Control and Disarmament Agency. Mr. Lehman is a member of the Council on Foreign Relations, the Atlantic Council, the International Institute of Strategic Studies, and the Governing Board of the Keck Center.

The Keck Center for International and Strategic Studies and the Roberts Environmental Center are the cosponsors of this public lecture by Ambassador Ronald F. Lehman II.