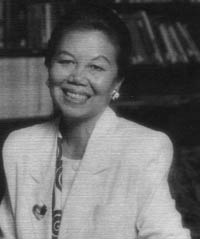 The Chinese American Community in Los Angeles
LILLY LEE
WEDNESDAY, NOVEMBER 3, 1993
What does it take to become a successful businesswoman in the 90s? If anyone knows the answer to this question, Lilly Lee is that person.

When Ms. Lee was divorced at the age of 40 she found herself, with no work skills solely responsible for providing for two teenage sons. She went to real estate school and is now the head of her own real estate investment, management, and development company, Lilly International Inc. Subsequently, Lilly V. Lee has risen to become a highly respected businesswoman in Los Angeles.

After proving herself in the business world, Ms. Lee became involved in charities and public service, serving on more than 25 charitable, civic, and educational boards. One of Ms. Lee's associates in the Los Angeles Chamber of Commerce comments "She has gained the trust of so many people yet she's never lost her sense of humor or modesty. She's very intuitive and very smart. Everyone wants Lilly on his or her board of directors or advisers."

As chairwoman of the Western Regional Oversight Board of the Resolution Trust Corp (RTC) Lilly Lee oversees the cleanup of the savings and loan debacle in all of California, Arizona, Nevada, Utah, and Hawaii.

Furthermore, Ms. Lee has received many awards, including the State of California "Exemplary Service to State," The Asian Women's Network "Woman Warrior Award for Business," and an honorary Doctor of Philanthropy from Pepperdine University. The Rose Institute for State and Local Government and the Marian Miner Cook Athenaeum are proud to sponsor Ms. Lilly V. Lee's visit to CMC.