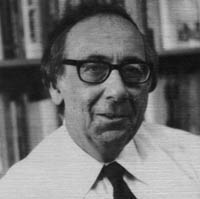 The Limits of Coercive Diplomacy
ALEXANDER GEORGE
THURSDAY, NOVEMBER 4, 1993
The strategy of employing coercive methods (primarily force) as an instrument of diplomacy at a time of international crisis will be discussed by a recognized expert in the field of international relations.

Dr. Alexander George is the Graham H. Stuart Professor Emeritus of international relations at Stanford University, where he has been in residence since 1968. During World War II Professor George worked with the Federal Communications Commission and the Office of Strategic Services. After the war he served with the U.S. Military Government in Germany. He was a research analyst with the RAND Corporation from 1948-68 and served for several years as head of its social science department.

His first book, Woodrow Wilson and Colonel House: A Personality Study (1989), written with his wife, Juliette L. George, is widely regarded as a classic study of the role of personality in politics. He is also author or coauthor of a number of books including Deterrence in American Foreign Policy: Theory and Practice (1974), which won the Bancroft Prize in 1975; The Limits of Coercive Diplomacy (1971), The Chinese Communist Army in Action: The Korean War and Its Aftermath (1969), Presidential Decisionmaking in Foreign Policy: The Effective Use of Information and Advise (1980); and Managing US.-Soviet Rivalry: Problems of Crisis Prevention (1983). He recently completed books on Avoiding War: Problems of Crisis Management (1991); Forceful Persuasion: Coercive Diplomacy as an Alternative to War (1992); and Bridging the Gap: Theory and Practice of Foreign Policy (1993).

This lecture by Professor George is sponsored by the Keck Center for International and Strategic Studies.