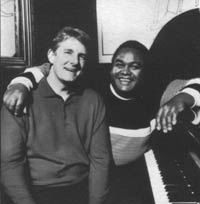 One to One
RAY DRUMMOND '68, bass
BILL MAYS, piano
THURSDAY, NOVEMBER 18, 1993
Ray Drummond '68 is again bringing his talent and melodic bass to the Athenaeum for the fourth program in the series titled "Jazz, An American Treasure." Coming to the Athenaeum with Ray Drummond is renowned jazz pianist Bill Mays. This is the duo's second appearance at the Athenaeum, the last time being December 1990.

Ray Drummond is a man who has tapped into the deep spiritual power of the bass. He not only plays the bass, he lives through it as he plays. Mr. Drummond has performed with numerous notables including Wynton Marsalis, Betty Carter, Woody Shaw, and Art Farmer. He has recorded several albums himself including a recent title, One To One (1990), with Bill Mays, which has been described as a "vital and equal conversation between two communicative and expressive artists." He has also recorded with Bobby Hutcherson, Branford Marsalis, Pharaoh Sanders, David Murray, and Freddie Hubbard.

Bill Mays has performed on the soundtracks of several motion pictures including Superman (1978), Rocky (1976), Annie (1982), and Jaws (1975). He has been accompanist to such singers as Sarah Vaughn, Frank Sinatra, Mel Torme, and Al Jarreau.

Ray Drummond and Bill Mays both have roots deeply embedded in classical jazz and are both in demand as first-call musicians in New York. Don't miss this rare West Coast performance by these two wonderful musicians.