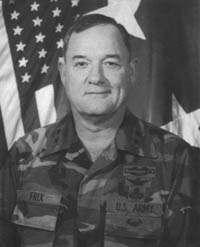 Veterans Day Commemoration
ROBERT FRIX
THURSDAY, NOVEMBER 11, 1993
Each Veterans Day should be a day of reflection in order to remember and honor those brave men and women who have given their lives serving this nation. In commemoration of Veterans Day, the Military Science Department of The Claremont Colleges and the Athenaeum have invited Major General Robert S. Frix to speak about his service in the United States Army.

Major General Frix is a graduate of Texas A&M as well as the United States Military Academy at West Point. He has received numerous decorations for his leadership and courage, including the Distinguished Service Medal, Legion of Merit, Distinguished Flying Cross, Bronze Star Medal, Meritorious Service Medal, Air Medals, and the Army Commendation Medal.

Major General Frix has served in several overseas assignments, including two Vietnam tours, two tours in Germany, and one tour in Saudi Arabia/Kuwait. During Desert Shield/Storm, Major General Frix served as the Chief of Staff/Deputy Commanding General of the United States Army Forces Central Command. Moreover, he also commanded the Third Army Forward Command Post during the Gulf War and Task Force Freedom during the Kuwait restoration.

This Veterans Day join us at the Athenaeum to honor the men and women of our armed forces.