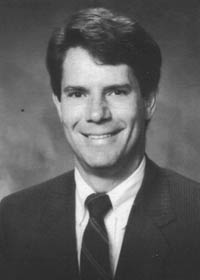 The Future of California's Economy
STEPHEN ALBRIGHT
MONDAY, NOVEMBER 15, 1993
Stephen Albright, chief executive officer of The Inland Empire Economic Partnership, will address the issue of California's economic future in the Marian Miner Cook Athenaeum. His lecture is sponsored by the John Brown Cook Association.

Appointed by Governors George Deukmejian and Pete Wilson to the board of the South Coast Air Quality Management District, Mr. Albright brings to this discussion over 19 years of professional experience in the fields of economic development, urban planning, and environmental management.

Graduating in 1973 from California Polytechnic State University, San Luis Obispo, with a degree in city and regional planning, Mr. Albright has worked as a regional planner in Virginia and Colorado, including tenure on the Colorado Air Quality Control Commission.

Since returning to California in 1985, Mr. Albright has maintained an active role in all phases of local government, including the Riverside City Development Committee.

To make reservations for this dinner and lecture, which will take place in the Parents Dining Room, please contact Professor Alfred Balitzer at ext. 1572.