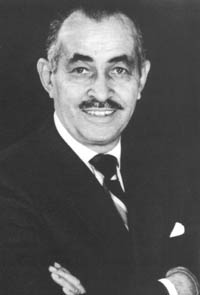 Martin Luther King Commemorative Speaker
The Historical Significance of Dr. Martin Luther King Jr
WYATT TEE WALKER
THURSDAY, JANUARY 20, 1994
"I have a dream that my four little children will one day live in a nation where they will not be judged by the color of their skin but by the content of their character.

-Martin Luther King Jr.,
August 28, 1963

The Reverend Dr. Wyatt Tee Walker and Dr. Martin Luther King Jr. were close colleagues during the civil rights movement. As the first full-time executive director of the Southern Christian Leadership Conference (SCLC) and chief of staff to Dr. King during the height of the civil rights movement, Walker was in many ways the backbone of the SCLC, providing the hands-on management that Dr. King was unable to provide. From Birmingham to Selma, Walker made decisions which affected the course of events that helped reshape America.

Reverend Walker is currently senior pastor of Canaan Baptist Church of Christ in Harlem with a congregation of over 2300 members. He received his B.S. in chemistry and physics and a master of divinity from Virginia Union University. He completed his doctorate at Colgate/Rochester Divinity School in 1975.

An energetic businessman as well as pastor, Walker has developed more than $42 million of affordable housing in central Harlem under the aegis of Canaan Baptist Church and has served as chairman of the board of Freedom National Bank, one of a small number of African-American-owned banks in America. He spent a decade as Urban Affairs Specialist for Nelson Rockefeller and has just completed a six-year tenure as a world commissioner of the Programme to Combat Racism of the World Council of Churches based in Geneva, Switzerland.

An ethnomusicologist, an exhibiting artist, a composer of sacred music, and the author of 14 published works, Wyatt Tee Walker is a Renaissance man in every sense of the word.

The Athenaeum is pleased to join the Office of Black Student Affairs in sponsoring this program in honor of Martin Luther King Jr.