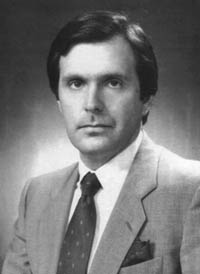 Prosecuting Nazis In America
NEAL SHER
TUESDAY, JANUARY 25, 1994
A 1985 Washington Post article stated that "...overall in the world there were still estimated to be up to 50,000 fugitive Nazi criminals with 10,000 of them living in the United States." In 1979 the Office of Special Investigation of the United States Justice Department (OSI) was created to investigate and take appropriate legal action against Nazi war criminals in the United States. As director of OSI, Neal Sher has played an active role in overseeing all litigation and investigations. Having served as a senior trial attorney and later as deputy director, Sher has participated in every phase of OSI's operations.

Sher has received numerous awards and honors for the work that he has done at OSI. He has been the recipient of the Raoul Wallenberg "Hero in Our Time" Award, the Torch of Liberty Award from the Anti-Defamation League of B'nai B'rith, the Absorption Award from Israel Bonds, and a special commendation from the World Jewish Congress. Furthermore, Sher is recognized internationally as an expert in the prosecution of Nazi criminals.

Sher received his undergraduate education at Cornell University and his law degree from New York University School of Law. He is also an adjunct professor at Cornell University where he teaches a course entitled "Jurisprudence and the Holocaust."