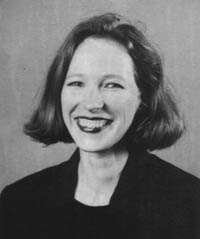 Back to the Future? Europe Since the End of the Cold War
ARISTA CIRTAUTAS
TUESDAY, FEBRUARY 1, 1994 12:15 p.m.
The first speaker in the series of Faculty Focus lunches is also the newest member of the government department at CMC. An expert in European affairs, both east and west, Arista Cirtautas is completing her Ph.D. at the University of California, Berkeley. Her thesis is titled "The Ethic of Solidarity and the Spirit of Democracy."

Cirtautas completed both B.A. and M.A. degrees in history at the University of Washington, Seattle, before completing a second M.A. in political science at UC Berkeley. A recipient of numerous research grants and fellowships, she has spent two years in Germany and one year in Poland. In the spring of 1992 she was a lecturer in a graduate seminar at the Institute of Philosophy and Sociology at the Polish Academy of Sciences. Cirtautas speaks German, French, Polish, and Russian.

A professor whose courses are among the most popular on campus, Arista Cirtautas will bring a scholar's insight to this very important topic.

Lunch is served at 11:45 a.m. Cirtautas will speak at 12:15 p.m.