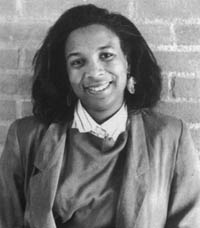 The Intersection of Race and Gender in Law, Politics, and Popular Culture
KIMBERLE CRENSHAW
TUESDAY, FEBRUARY 1, 1994
Kimberle Williams Crenshaw (J.D. Harvard; LL.M. University of Wisconsin) is Professor of Law at UCLA Law School and Samuel Rubin Visiting Professor of Law at Columbia Law School. She has lectured and written extensively on Civil Rights, Black feminist legal theory, and race and the law. She is a founding member of the Critical Race Theory workshop, coauthor of
Words That Wound: Assaultive Speech and the First Amendment
(Colorado: Westview Press, 1992), and the coeditor of a forthcoming volume,
Critical Race Theory: A Reader
. Her work has appeared in
Harvard Law Review, National Black Law Journal, Stanford Law Review
, and
Southern California Law Review
. She serves on the governing board of the Law and Society Association and the Society of American Law Teachers. A specialist on legal issues confronting Black women, she assisted the legal team representing Anita Hill.
Crenshaw is at the cutting edge of critical race theory law as it intersects with race, class, and gender. Of special interest to her is how the multiplicity of race, class, and gender plays out in the courts for Black women. In her work she has argued a special class for Black women. As it now stands, in the court they must either petition as a woman or as a Black, but never as a Black woman.
The Athenaeum continues the series "Law and Social Change" and begins the celebration of Black history month with this distinguished jurist. Please join us!