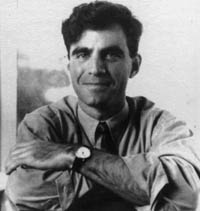 Making History: The Struggle for Gay and Lesbian Civil Rights, 1945-1990, An Oral History
ERIC MARCUS
THURSDAY, FEBRUARY 3, 1994
Eric Marcus says, "My life as a gay man is far more than what I do in the privacy of my bedroom." A gay and lesbian rights activist, Marcus works to strip away ancient myths and persistent misconceptions. As a journalist, he tries to educate America on what it means to be gay, lesbian, or bisexual in the '90s.

After graduating from Vassar College he attended the Columbia University Graduate School of Journalism. Marcus went on to become associate producer for CBS's This Morning and later for Good Morning America.

Marcus has also written books on gay and lesbian issues such as: Making History: The Struggle for Gay and Lesbian Equal Rights, 1945 to 1990, An Oral History (1992); The Male Couple's Guide to Living Together: What Gay Men Should Know About Living with Each Other and Coping in a Straight World (1988); and Is It a Choice? Answers to 300 of the Most Frequently Asked Questions About Gay and Lesbians (1993). Eric Marcus is a regular contributor to Newsweek magazine and a frequent guest of national and local radio and television shows.

From subjects such as gays in the military to AIDS, Eric Marcus will address issues that confront gays and lesbians in American society today.