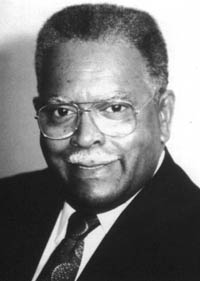 Solutions to the Economic Problems of African Americans: Implications for the Future of America
OSCAR COFFEY
THURSDAY, FEBRUARY 10, 1994
America has been described as a melting pot of individuals and cultures. All Americans are involved in its achievements and progress as well as its problems. The economic problems America faces today are felt particularly hard in "minority" communities. Oscar J. Coffey, president and CEO of the U.S. African American Chamber of Commerce, has been involved for more than 20 years with economic problem solving in the African American community and its impact on America.

The U.S. African American Chamber of Commerce is an organization comprised of 81 chapters, representing over 15,000 members nationwide. Coffey became president and CEO of the Oakland/Alameda County Black Chamber of Commerce in 1974. He is also senior partner of Housing Rehabilitation of California, Inc.; chief financial officer of the Oakland Investment Group; and president of Chamber Center Developers, Inc., a $10 million development project.

Coffey has received numerous awards which include a Presidential Certificate of Appreciation in 1976; Certificate of Special Recognition, U.S. Dept. of Housing and Urban Development; and a Black History Award, U.S. Treasury Internal Revenue Service. He has been a member of the National Black Republican Party, the U.S. Travel and Tourism Administration, the U.S. Dept. of Commerce, the California Tourism Commission, and the U.S. Dept. of Housing and Urban Development Advisory Task Force on Housing and Small Disadvantaged Business. From 1986 through 1989 he was mayor of Oakland's Foreign Investment Advisory Committee.

The Henry Kravis Leadership Institute is pleased to sponsor Mr. Coffey's appearance at the Marian Miner Cook Athenaeum in conjunction with its annual Leadership Conference.