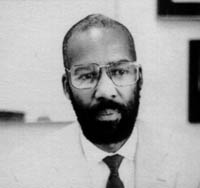 Little Rock Revisited: An Assessment of the Modern Civil Rights Movement
TERRENCE ROBERTS
TUESDAY, FEBRUARY 15, 1994
The history of America is diverse and complicated. To reflect on times when America was in the midst of monumental change is important for the future. Dr. Terrence Roberts is a living example of the monumental historical change that has taken place in America in the past 50 years. Roberts is one of the famous "Little Rock Nine" schoolchildren who were the first to attempt to integrate Central High School in Little Rock, Arkansas. The pictures of U.S. marshals and National Guard troops escorting him to school is a part of history that Roberts has never forgotten.

Roberts is currently the chair of the M.A. program in psychology at Antioch University in Los Angeles. He has held many other administrative and faculty positions at institutions such as UCLA School of Social Welfare, St. Helena Hospital, Pacific Union College, Southern Illinois University, and the Los Angeles County Children's Service. Roberts has taught workshops and seminars on a variety of subjects including Managing Human Relationships, Confronting Racism, and Managing Racial and Ethnic Diversity. Roberts received his MSW from UCLA in 1970 and his Ph.D. in psychology from Southern Illinois University in 1976.

Roberts was also awarded the NAACP's Springarn Medal and the Legal Defense and Education Fund's Award commemorating the 25th anniversary of the integration of Central High School in Little Rock. A video and photo display will begin at 3:00 p.m. This display will describe in detail the events from Brown vs. the Board of Education to the integration of Central High in 1957.

The Office of Black Student Affairs and the Athenaeum join in sponsoring this opportunity for you to meet a significant figure in American history.