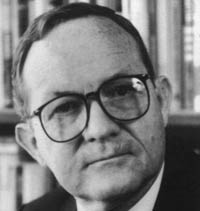 The Foundations of Japan's Wealth and Power and Why They Baffle the United States
CHALMERS JOHNSON
WEDNESDAY, FEBRUARY 16, 1994
The Keck Center for International and Strategic Studies is pleased to sponsor Professor Chalmers Johnson's speech on "The Foundations of Japan's Wealth and Power and Why They Baffle the United States" on Wednesday, February 16.

Johnson is a teacher and writer on the politics and economics of modern East Asia and the Pacific Rim. He taught for 30 years, 1962-1992, at the Berkeley and San Diego campuses of the University of California and held endowed chairs in Asian politics at both of them. At Berkeley he served as chairman of the Center for Chinese Studies and as chairman of the department of political science. His A.B., M.A., and Ph.D. degrees in economics and political science are all from Berkeley.

He first visited Japan in 1953 as a U.S. Navy officer and has lived and worked there virtually every year since 1961. He has written numerous articles and reviews and some 12 books on Asian subjects, including Peasant Nationalism and Communist Power: The Emergence of Revolutionary China, 1937-1945 (1962) on the Chinese Revolution, An Instance of Treason: Ozaki Hotsumi and the Sorge Spy Ring (1990) on Japan's most famous spy, Revolutionary Change (1982) on the theory of violent protest movements, and MITI and the Japanese Miracle: The Growth of Industrial Policy, 1925-1975 (1982) on Japanese economic development. This last book laid the foundation for the "revisionist" school of writers on Japan, causing the Japanese press to dub him the "Godfather of Revisionism."

Johnson was chairman of the academic advisory committee for the 1992 PBS television series The Pacific Century and the PBS Frontline documentary "Losing the War with Japan," in which he played a prominent role, recently won an Emmy. He is an associate editor of The Journal of Japanese Studies. He lives in Southern California and is an ardent opera fan.