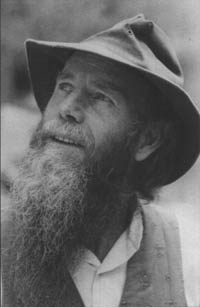 An Evening with John Muir
LEE STETSON
TUESDAY, FEBRUARY 22, 1994
Nobody can be in good health if he does not have all the time fresh air, sunshine, and good water.

-Flying Hawk

The Great Outdoors. Perhaps no person has loved and sought to protect it more than John Muir. Muir was born in Scotland and emigrated to the wilderness of Wisconsin at the age of eleven. In 1867 he walked from Kentucky to Florida, keeping a journal, the first of many. The next year he moved to California and caught his first glimpse of Yosemite. From then on he struggled to get federal control of forests, Yosemite in particular. He climbed Mount Shasta and Mount Rainier, explored the glaciers in Alaska, and even led President Theodore Roosevelt on a personal tour of Yosemite. His adventurous spirit developed into a camaraderie with the land around him. Muir was present when Yosemite was declared a national park. Later he founded the Sierra Club, which continues to speak out on behalf of the environment.

Lee Stetson also continues to represent the environment although he does it through acting. Stetson has been portraying John Muir for over ten years. His exploration into Muir's life has inspired him to become active in the environmental movement. Stetson is currently working on plans for an environmental education camp in the Sierra Nevada.