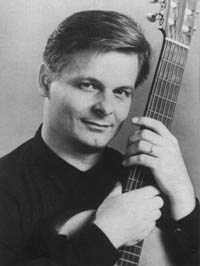 Classical Guitar, Music by Spanish Composers Granados, Terago, and Rodrigo
KENTON YOUNGSTROM
THURSDAY, FEBRUARY 24, 1994
Kenton Youngstrom has been performing and winning awards and recognition for his outstanding musicianship for more than 15 years. Youngstrom earned his B.A. and M.A. from the University of Southern California. During his stay as USC, he studied guitar with James Smith and Lee Ritenour and participated in master classes with artists such as Pepe and Angel Romero, Gabor Rejto, Manuel Barrueco, and Michael Lorimer.

Youngstrom has also performed with the Redlands and Downey symphonies and the Glendale and Pasadena chamber orchestras. Youngstrom's group, Falla Guitar Trio, received a Record of the Year award from Stereo Review.

For the past several years, Youngstrom has been the musical director of Ballet Folklorico Mexicapan and subsequently cofounded Mariachi Mexicapan, with whom he sang and played the vihuela at the 1981 Tournament of Roses Parade. Youngstrom has also formed a jazz quartet whose debut recording is to be released this year.

The Athenaeum would like to thank Mr. Ed Stotsenberg, a friend of the college, for his generous gift that made this event possible.