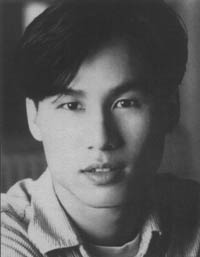 Change, Hope, and Equality for Asian Americans
BD WONG
TUESDAY, MARCH 1, 1994
If you haven't seen BD Wong in his many theatrical performances- The Tempest (1610), Peter Pan (1954), Herringbone (1975), The Gifts of the Magi (1986), M. Butterfly (1988) - then perhaps you have seen him in his film roles: Father of the Bride (1991), The Freshman (1990), Family Business (1992), The Karate Kid II (1986). Indeed, these are just some of the many roles Wong has played over the years.

The recipient of a Tony Award for his performance in M. Butterfly, Wong has since won numerous awards for his acting, including the Drama Desk Award, Outer Critics' Award, Clarence Derwent Award, and Theatre World Award. However, Wong's great success in acting has led him to discover something else about the theatrical and film industry - it is riddled with stereotypes and restrictions.

"For some reason Caucasian performers have a right to portray Asian people and the Asian experience, but the reverse just isn't true." Wong has protested the exclusion of Asians in theater and helped to create the Asian/Pacific Alliance for Creative Equality. He is also on the board of directors of the Alliance of Resident Theaters. For his efforts to bring about equality, Wong has been awarded by Manhattan Community College, the Chinese Culture Foundation of San Francisco, the Asian American Legal Defense and Education Fund, and the Association of Asian/Pacific American Artists.

As an aspiring star and an equal rights activist, BD Wong is sure to give an informative speech.