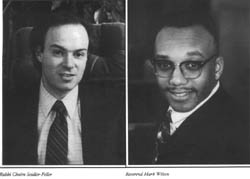 Panel Discussion on Jewish and African American Relations
CHAIM SEIDLER-FELLER
MARK WILSON
THURSDAY, MARCH 3, 1994
I live in fear of saying something stupid or that's going to hurt someone feelings. I don't want to do that. But what happens ... is that it makes it easier not to even try.

-Phyllis Mobley

In the 90s communication is key. In order for the many different racial, religious and ethnic groups living in America to understand each other, dialogue must take place. For this reason, the Athenaeum is proud to present a panel discussion with Rabbi Chaim Seidler-Feller and Reverend Mark Wilson.

Rabbi Feller is the director of the University of California, Los Angeles Hillel. Feller is also an instructor in Talmud at the University of Judaism, a fellow of Shalom Hartmon Institute for Advanced Jewish Studies in Jerusalem, and a member of the Academic Advisory Board of the Willstein Institute for Social Policy. He also serves on the Governing Council of the American Jewish Congress and the Executive Committee of the Fellowship of Traditional Rabbis.

Feller was ordained in 1971 at Yeshiva University where he also earned a M.A. in rabbinic literature. Feller has authored many articles on the conflict between African Americans and Jewish Americans and serves on the UCLA Council on Diversity.

There is an amazing power in unity. Where there is true unity, every effort to disunite only serves to strengthen the unity.

-Dr. Martin Luther King Jr.,
Stride Toward Freedom

Reverend Mark Wilson is the pastor of McGee Avenue Baptist Church in Berkeley, California. He has served as the Assistant to the Pastor in the Youth and Neighborhood Ministries at Hartford Memorial Baptist Church and as an instructor at the Hartford Institute for Biblical Studies. He has taught many courses about "Intergroup Relations and Group Conflict" as well as about African American and Jewish American relations.

Wilson received his B.A. from Howard University in 1982 and his Master of Divinity from Harvard Divinity School in 1985. He is currently completing his Ph.D. in sociology at the University of Michigan. He served on the Interfaith Council for Peace and Justice and received the prestigious Benjamin E. Mays Fellowship in 1983.

Both men have dealt with the conflicts that tear society apart. Now come hear them propose how to bring society together in the spirit of unity.