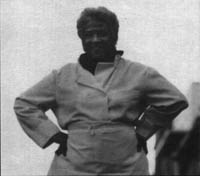 The History of New Orleans Culture and Cuisine
LEAH CHASE
TUESDAY, MARCH 22, 1994
Leah Chase has been working in the restaurant business for over forty years. Chase, however, is more than a chef and co-owner of the nationally famous Dooky Chase restaurant in New Orleans, she is a nationally recognized culinary expert and a civic leader in New Orleans.

Born in New Orleans in 1923, she was reared in Madisonville, Louisiana, where her culinary education began. There she did everything possible to stay out of the kitchen, but with ten other children in the family that was difficult. As her mother and sister prepared meals with a rich variety of homegrown vegetables, she gained her culinary knowledge. In 1942 Chase found herself waiting tables in the French Quarter of New Orleans. It was her first time inside a restaurant since there were no restaurants serving Blacks. During that time Chase decided that she wanted to own her own restaurant.

As her restaurant blossomed, Chase found herself in the kitchen as well as managing. Her creative cuisine and legendary Creole gumbo made Dooky Chase a national treasure. Chase uses her skill and experience to unify the cultures of the French, the Spanish, the Native American, and the African to create Creole and Cajun cuisine. This master chef states that in addition to these cultures, "You have to put all your love in that pot."

A civic leader, Chase is involved with housing projects and homeless shelters. She is a former board member of the New Orleans Museum of Art, the New Orleans Symphony, the New Orleans City Ballet, the Urban League of Greater New Orleans, and the Coalition of 100 Black Women. Chase was featured in Brian Lanker's book I Dream A World: Portraits of Black Women Who Changed America (1989). She wrote The Dooky Chase Cookbook (1990) and was a major contributor to Master Chef Nathaniel Burton's book, Creole Feast (1978).

There will be a special Creole dinner prepared using Chase's recipes and cooking techniques.