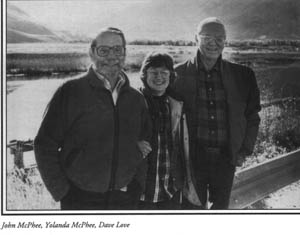 Rising from the Plains
JOHN MCPHEE
YOLANDA MCPHEE
WEDNESDAY, MARCH 23, 1994
John McPhee is one of America's premier essayists, known for his ability to transform the ordinary world of hard facts into an extraordinary world of surprise and adventure. His recent books have explored the geology of the North American continent through the eyes and lives of contemporary geologists. One of those works, Rising from the Plains (1986), focuses on the life of David Love, a Wyoming geologist, whose mother traveled by stagecoach to settle in the West in 1905. Her fascinating journal of family life on the treeless range of Love Ranch is the basis of the dramatic reading that will be performed by John McPhee and his wife, Yolanda. In the tradition of Wallace Stegner it is a testament to the frontier experience in American life.

For nearly 30 years John McPhee has been a writer for The New Yorker and is the author of 22 books including A Sense of Where You Are (1965), The Pine Barrens (1968), Coming into the Country (1985), The Control of Nature (1989), and most recently, Assembling California (1993). The recipient of numerous awards and honorary degrees, McPhee is the Ferris Professor of Journalism at his alma mater, Princeton University.

Yolanda McPhee, a graduate of Smith College, is a horticulturist and is the director of Whitman Indoor Gardens.

Please join us for this unusual performance-reading that celebrates life in the American West.