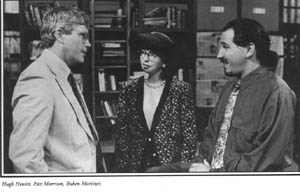 Panel Discussion on Immigration Policy
HUGH HEWITT
RUBEN MARTINEZ
PATT MORRISON
WEDNESDAY, MARCH 30, 1994
In California there is perhaps no issue more widely debated than immigration policy. For this reason, the Athenaeum is proud to present a panel discussion on immigration policy with Hugh Hewitt, Ruben Martinez, and Part Morrison.

Hugh Hewitt is a lawyer by day and a talk show host by night. A partner in the Newport Beach law firm Hewitt and McGuire, he is a natural resources lawyer and columnist for the Orange County Business Journal On Sunday nights Hewitt can be heard on The Hugh Hewitt Show, KFI-AM radio's weekly talk show devoted to conservative politics and free-market economics. Hewitt formerly served as an executive director of The Richard Nixon Library and Birthplace Foundation. He contributes frequently to newspapers and magazines and is the author of the book First Principles: A Primer of Ideas for the College-Bound Student (1987).

Ruben Martinez is a poet, journalist, teacher, and performer. His poetry has received many awards, including a Chicano Literary Contest Prize at the University of California at Irvine and a Santa Monica Arts Council Award. His most recent collection of essays and poetry, The Other Side: Notes from the New L.A., Mexico City, and Beyond (1993), has been widely praised. Martinez is the Los Angeles bureau chief for Pacific News Service and is a staff writer and editor for L.A. Weekly. His articles have appeared in many newspapers and magazines, including The New York Times, La Opinion, Los Angeles Times, Mas, and The Nation. Martinez is also a well-liked professor in the literature department at Claremont McKenna College, where he teaches journalism and creative writing.

Patt Morrison is a staff writer for the Los Angeles Times. She has written on numerous topics and is a member of the Pulitzer Prize-winning Times team honored this year for its coverage of the Los Angeles riots. Morrison is also a columnist and contributing editor for the Los Angeles Times Magazine. She has won many awards from organizations such as the Associated Press Newspaper Editors' Association, the Los Angeles Press Club, the Best of the West Association, and the Times, among others. Morrison is also on the faculty of the USC School of Journalism.

Hewitt, Martinez, and Morrison host the critically acclaimed news and current affairs weeknight series Life & Times on KCET, Channel 28.