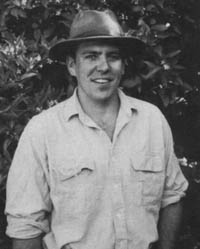 Waterways of the World
STEPHEN FAIRCHILD '90
THURSDAY, MARCH 31, 1994
Steve Fairchild is returning to campus after graduating from CMC in 1990. His life during the past four years has been a worldwide adventure.

Fairchild has been in many exotic countries pursuing a fascination with running rivers. This fascination has taken Fairchild to the Himalayas of Nepal where he was a guide and a photographer. He also visited Turkey and Chile for the specific purpose of whitewater rafting and kayaking. He is currently in Chile rafting the Bio Bio and Futelefu rivers. Fairchild spent this past summer as a guide on various rivers in California for Whitewater Voyages.

Fairchild's slide presentation will focus on the essential experience of river trips in Nepal, Chile, and California. The slide show will also include shots of whitewater, indigenous people, scenic shots specific to each country, camp scenes, and portrayals of the expeditions abroad. The final segment of the slide show will illustrate the difference between naturally-flowing and dam-controlled rivers. The preservation of rivers, particularly naturally-flowing rivers, will be an essential aspect of Fairchild's presentation.

It is a privilege for the Athenaeum to host an alumnus of the College who has distinguished himself in this unique career. Come share the adventure!