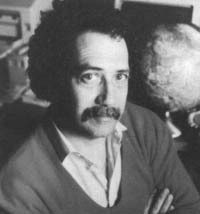 Immigration and the California Economy
JOEL KOTKIN
MONDAY, APRIL 4, 1994
Immigration is a central issue of California's political and economic future. Joel Kotkin, an expert on immigration and its effect on the economy and society, is coming to the Athenaeum as a guest of the John Brown Cook Association. Kotkin authored
Tribes: How Race, Religion, and Identity Determine Success in the New Global Economy
, published in 1993, which traces the connection between ethnicity and business success. Kotkin is coauthor of
The Third Century-America's Resurgence in the Asian Era
(1988). This book was translated into Japanese and Chinese, and a special English edition was published for the Pacific Rim market. Kotkin also coauthored
California, Inc.
, published in 1982, which deals with California's links to the emergent powers of the Pacific Rim, and a work of fiction,
The Valley
, published in 1983.
Kotkin is an international fellow of Pepperdine University School of Business in Los Angeles, a senior fellow of the Center for the New West in Denver, and a senior fellow of the Progressive Policy Institute in Washington, DC. He is also founder of the New Visions Business Council of Southern California, a coalition of growth companies and emerging ethnic groups in the Greater Los Angeles area. Kotkin has lectured widely in the United States, Japan, and Europe and has addressed both Democratic and Republican Congressional groups.
In addition, Kotkin has written numerous articles on global competition and the emerging significance of regional trading blocs that have appeared in such publications as The Washington Post, The Wall Street Journal, and the Los Angeles Times. Kotkin has appeared on Donahue, CNN's Crossfire, CBS Evening News, NBC Nightly News, and Tony Brown's Journal on PBS.