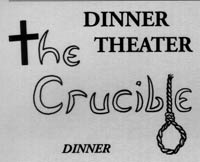 Dinner Theater
The Crucible by Arthur Miller
THURSDAY, APRIL 7, 1994
FRIDAY, APRIL 8, 1994
Under the Lights is proud to present Arthur Miller's
The Crucible
(1954) as this spring's Athenaeum dinner theater production. This historic drama relates the tragic story of the infamous Salem witch hunt that claimed seventy-two innocent lives. It tells a tale of triumph of the human soul in the face of a blind and corrupt theocracy. Published in 1954 at the height of McCarthyism,
The Crucible
was meant to point out the willing cruelty with which peoples' lives were ruined. With the recent developments in the communist world, it is perhaps easier to accept, as well as to understand, this comparison now that the fear of the "great red menace" has been laid to rest alongside the fear of witchcraft. Judge Danforth's proclamation that "one must either be counted with this court or against this court" echoes the vain and haughty self-righteousness of Senator Joseph McCarthy's faction. Miller brings to us these appalling specters of human nature and the American past that we might reflect on them when confronted with novel fears and, perhaps, not make the same mistakes again.
The Under the Lights theater group consists of and is entirely organized by CMC students.
Prices for Dinner Theater
CMC student with meal card $ 7.50
CMC student without meal card, CMC faculty and staff $10.00
Other Claremont Colleges students, faculty, and staff $13.00
Community persons and all others $18.00
Play only $4.00
DINNER
Watercress Soup
Cornish Game Hen
Wild Rice Pilaf
Asparagus
Apple Tart with Calvados