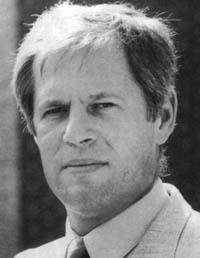 Is Democracy in East Central Europe Viable?
KRZYSZTOF JASIEWICZ
TUESDAY, APRIL 12, 1994
Since the crumbling of the Berlin Wall and the lifting of the Iron Curtain, East Central Europe has been undergoing profound political, social, and economic changes. Dr. Krzysztof Jasiewicz is highly qualified to shed both analytical and empirical light on the historically unprecedented processes of transformation as the countries of this region-Poland, Hungary, the Czech Republic, and Slovakia-attempt to move from Leninism to liberalism, from central planning to free markets. Born in 1949 in Poland, Jasiewicz has been a witness, a participant, and a respected analyst of the dramatic events in Poland that began with the founding of Solidarity in 1980.

In addition to his expertise on Poland, Jasiewicz is a comparative sociologist whose research encompasses all of East Central Europe. He is both an organizer of and a participant in numerous international conferences and research projects that focus on the changing political and social environment in East Central Europe. His most recent publications include the following articles: Citizenship in Post-communist Poland: Civil Society or Das Volk? and From Solidarity to Fragmentation (1992).

Dr. Jasiewicz has lectured extensively at many American universities, including Harvard, Yale, Columbia, and Berkeley. Currently, he is professor of sociology at Washington and Lee University.

Please join us for this unique opportunity to evaluate the prospects for democracy in East Central Europe.