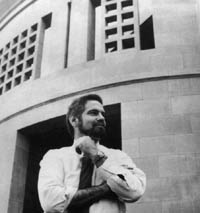 The Holocaust and Its Remembrance
MICHAEL BERENBAUM
WEDNESDAY, APRIL 13, 1994
In honor of Yom Hashoah, Holocaust Remembrance Day, the Athenaeum is proud to present Michael Berenbaum, director of the United States Holocaust Research Institute of the U.S. Holocaust Memorial Museum. He helped bring the museum into being by directing the creative staff, writing the storyline of the museum, and charting its intellectual course. He also supervised the growth of the museum's library and archives.

Berenbaum is also the Hymen Goldman adjunct professor of theology at Georgetown University in Washington, DC. He previously taught at Wesleyan University and Yale University and served as visiting professor at George Washington, University of Maryland, and American University. Berenbaum has also authored nine books as well as many journalistic and scholarly articles. His books include After Tragedy and Triumph: Essays in Modern Jewish Thought and the American Experience (1991), The World Must Know: A History of the Holocaust (1993), and The Holocaust: Religious and Philosophical Implications (1989), which he coauthored with CMC's John Roth.

Since the Holocaust Memorial Museum opened last summer it has become one of the most popular museums in DC. We are indeed fortunate that Berenbaum will provide us with an opportunity to learn about the Holocaust Memorial Museum without leaving Claremont.