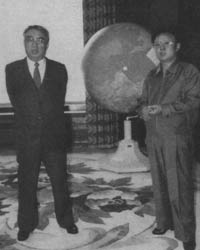 North Korea at the Crossroads
CHONG-SIK LEE
THURSDAY, APRIL 14, 1994
The Democratic People's Republic of Korea (North Korea) is often referred to as a mysterious, isolated, and unpredictable country ruled by an autocratic leader. Yet North Korea is faced with a number of serious policy issues-such as nuclear development, political succession, and economic reforms-that present both a challenge and an opportunity to the United States. In order to understand these issues, the Keck Center for International and Strategic Studies has invited Dr. Chong-Sik Lee to address "North Korea at the Crossroads."

Lee is a specialist on North Korean affairs. Born and raised in the northern part of the Korean Peninsula, he moved to South Korea in 1950 during the Korean War, and then came to the United States in 1954. He received his B.A. from UCLA and his Ph.D. from the University of California at Berkeley. He now teaches at the University of Pennsylvania and serves as a member of the editorial boards for several major scholarly journals.

Lee's pioneering studies include The Politics of Korean Nationalism (1963), Korean Workers' Party: a Brief History (1978), Japan and Korea: The Political Dimension (1985), Revolutionary Struggle in Manchuria: Chinese Communism and Soviet Interest, 1922-1945 (1984), and Communism in Korea (1973) (with Robert A. Scalapino). The last book received a Woodrow Wilson Foundation Award from the American Political Science Association as the best book published in the United States in 1973 in government, politics, and international affairs. In addition, Lee edited or coedited Korea Briefing 1990 (1991), East Asia: In Search of New Order (1992), and North Korea in Transition (1991).