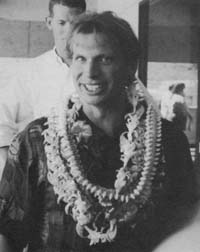 Are Dolphins Even Smarter Than We Thought?
ADAM PACK
TUESDAY, APRIL 26, 1994
Dr. Adam Pack has spent the past ten years involved in the scientific study of marine mammals at the Kewalo Basin Marine Mammal Laboratory (KBMML). Most of the research carried out at the lab focuses on the sensory processes, cognition, and communication in bottle-nosed dolphins, but Pack has also conducted research with humpback whales and pinnipeds.

Pack received his M.A. in comparative psychology and his Ph.D. in comparative cognition from the University of Hawaii in Manoa. As the senior research coordinator at KBMML, Pack plays an invaluable role in the design, methodology, training, and implementation of all research projects involving the dolphins residing there. A firm believer that scientific research is most valuable when it can educate the general public, Pack dedicates much of his time to interacting with school classes, as well as civic and community groups. He is also cofounder and vice president of the Dolphin Institute, a not-for-profit corporation dedicated to dolphins and whales through education, research, and conservation.

Pack's latest research has shown, for the first time, that dolphins' visual and echoic (SONAR) perceptual systems are integrated at the representational level. The dolphin can immediately recognize complexly-shaped objects visually that it has experienced earlier echoically. It can also immediately recognize complexly-shaped objects echoically that it has experienced earlier visually. Pack will discuss this aspect of dolphin cognition in detail along with other research that has helped us achieve a broader understanding of dolphin intelligence.

Pack's presentation on dolphin intelligence is cosponsored by the Claremont McKenna College psychology department and the Roberts Environmental Center.