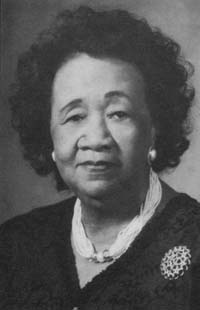 Black Women Who Have Helped Change America
DOROTHY HEIGHT
THURSDAY, APRIL 28, 1994
Dr. Dorothy Irene Height is one of the finest examples of leadership and commitment that anyone could find in America. She is an African-American woman who has dedicated her life to service and positive change.

Height has been involved in national leadership for more than three decades. She has served on major policy-making bodies affecting women, social welfare, economic development, and civil and human rights. During the 1950s and 1960s, she worked closely with Dr. Martin Luther King Jr., Roy Wilkins, Whitney Young, A. Phillip Randolph, and many others to help move the country forward in the civil rights struggle.

She earned her bachelor and master degrees in four years at New York University. Height joined the National Council of Negro Women (NCNW) in 1937 and served on the national staff of the YWCA from 1944 to 1977. She was active in developing leadership training and interracial and ecumenical education programs at the YWCA. In 1965 she inaugurated the Center for Racial justice, still a major initiative of the national YWCA. Height also served as the tenth national president of the Delta Sigma Theta Sorority from 1946 to 1957, before becoming the president of the NCNW.

As president of the National Council of Negro Women, Height has led the organization to pioneer new programs and initiatives such as the Black Family Reunion Celebration, a multicity cultural event designed to reinforce the historic strengths and traditional values of the African-American family. This event, now in its sixth year, has attracted more than four million people. The NCNW has also sponsored food, child care, housing, and career educational programs. Height initiated the only African-American private volunteer organization working in Africa in 1975, building on the success of the NCNW's domestic projects.

Height has received numerous awards. They include an appointment to the Advisory Council of the White House initiative on historically Black colleges and universities by President Bush, the Camille Cosby World of Children Award, the NAFEO Leadership Award, the Franklin Delano Roosevelt Freedom from Want Award, and the Presidential Citizens Medal Award for distinguished service to the country presented by President Ronald Reagan in 1989. She has also received 19 honorary doctorates from colleges and universities.

Dr. Dorothy Height has been a leader for most of her life and she continues to spread her vision of a better world. Come and share her vision.