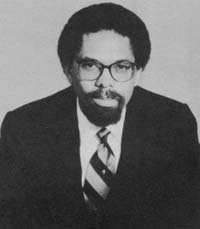 Race Matters
CORNEL WEST
MONDAY, MAY 2, 1994
At an early age Cornel West began what has been described as a lifelong habit of protest and speaking out by refusing to salute the flag because of the second-class status of AfricanAmericans in this country. This action began a journey for West that has culminated in ten books, including
Prophesy Deliverance: An Afro-American Revolutionary Christianity
(1992);
Ethical Dimensions of Marxist Thought
(1991);
Prophetic Thought In Postmodern Times
(1993);
Race Matters
(1993; and the forthcoming
Blacks and Jews: Conflicts and Coalescence
(1995).
At eight years old, West decided he wanted to go to Harvard University like President Teddy Roosevelt, with whom he identified because both were asthmatics. West was also impressed by the Black Baptist church, whose parishioners, only two generations from slavery, told stories of African Americans maintaining their religious faith during the most trying of times. West was also attracted to the commitment of the Black Panthers. It was from the Panthers that West began to understand the importance of community-based political action.
He graduated magna cum laude from Harvard in only three years. He went on to Princeton where he received his M.A. (1975) and Ph.D. (1980). He is currently at Princeton as professor of religion and director of the Afro-American studies department. Recently he was the W.E.B. DuBois lecturer at Harvard.
West's education and his life journey are an example of a man dedicated to learning and sharing his insights of what he has learned. Dr. West's lecture, cosponsored by the Office of Black Student Affairs, is at 6:45 p.m. in McKenna Auditorium.